Ok, yes, I realize it was Tuesday two days ago. However, I've been rushing to finish
Agnes Gray
and
The Brothers Karamazov
(which I did! Hooray) and I forgot that What's on My Nightstand Day hosted by 5 Minutes For Books was passing me by.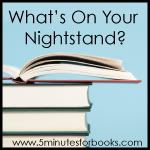 I love how honest this thing keeps me....
Idols of the Heart by Elyse Fitzpatrick: This was the book the ladies at my new church all read together. They were finishing their discussion on the day I first came to women's group. Woops. Anyway, it sounded good and I thought I should read it. Especially since it talks quite about my old friend, worry. Sigh Sometimes I need a good shaking up.

The New American Poetry by Donald Merriam Allen: Allen is actually the guy who compiled the poems. He's not the poet. It's a compilation of a lot of poets. So far, I've liked one, but I'm not very far into it. I'm somewhat trying to read one Christian living book and one poetry book a month. When I tell you that Idols of the Heart is my April Christian living book and The New American Poetry is my April poetry book, you'll understand how well I'm doing with that.

Saints and Villains: A Novel by Denise Giardina: Uhm, this is a novel...about Bonhoeffer. I've talked before about how awkward it is to write about a real person, but at the very least it makes me want to research Bonhoeffer and figure out how much of all this is true. I brought this book on the honeymoon with me. (No judgies!) So, what with the glorious wedding and the perfect honeymoon, I didn't get much of it read. Also, it's just not that interesting of a book, so I'm still slogging.

Lilith

by George MacDonald: I'm actually listening to this one with Husband. What can I say about this book. It's...insane. I don't even know how to explain how crazy this book is. The only explanation I have is that it is sort of a defense of MacDonald's universalism, or at least his lack of belief in hell. Hell is basically just being stuck in this crazy creepy "other world" and getting things figured out before you're ready to enter heaven. Or something. I don't know. I wouldn't recommend it.

The Most Famous Man in America: The Biography of Henry Ward Beecher

by Debby Applegate: It's a biography...in case you didn't pick that up. I technically, haven't even taken this out of my bookshelf in order to put it ON my nightstand, but it is the next "history" book. I've just been too scared to start it. I'm hoping this post will be the push I need.