It's been so long since I've done one of these posts, so I'm really glad to only be a day behind with this one. I've been in a bit of a reading slump and this is just the thing to push me onto greater things.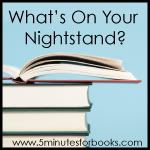 An Army at Dawn: The War in North Africa, 1942-1943, Volume 1 of the Liberation Trilogy by Rick Atkinson: I'm reading the Liberation Trilogy with a college friend. Her dad recommended them and we've been slogging through this one since Monday.
The Road to Wellville by T.C. Boyle: This one is for the library book club.
Freedom by Jonathan Franzen: I'm actually listening to this one. At work about half of what I do is data entry, and I've begun a new phase where I'm listening to books at work. I usually just listen to books I have read before, but I think I will expand my audiobooks to books that I'm not actually sure I'll like, but I've been curious about for a long time. This is one I've been curious about. So, I guess you could say it's not really on my nightstand, maybe my desk.
The Wings of the Dove by Henry James: This one has been really slow going, and not just because I think large portions of the book just don't make sense. It's also because whoever did the cover art for this book thought it would be cool to make it look like a torrid romance novel. I can't take it anywhere.
The Collected Poetry of Edna St. Vincent Millay
The Four Loves by C.S. Lewis: Recommended highly by a good friend. I've actually been trying to read one Christian Living or Theology book a month. Same with poetry. Sadly this book and the above mentioned poetry book are both of January's selections. I'm not doing very well wit that particular New Year's Resolution.
So, that is what I've been up to. Hopefully I'll be able to tell you at the end of March that I have accomplished all of this.