I feel like I haven't done one of these in a long time and I saw everyone else doing and thought...why not! At least I'll be able to set reading (and hopefully reviewing) goals for myself and everyone loves a good goal. So...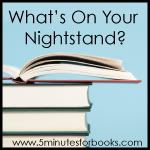 Confederates in the Attic: Dispatches from the Unfinished Civil War by Tony Horowitz: I read this a while ago. It was part of an introductory history class in college, and way back when Boyfriend was doing his prelims this was one of his books. I'm still reading through his prelims books, and it will be interesting to re-read this one.
Special Topics in Calamity Physics by Marisha Pessl: I'm about 150 pages in. It's...weird. I don't have a handle one what I think yet. I'll let you know.
Beach Glass and Other Poems edited by Paul Molloy: This is a compilation of old and new poetry including one of my favorites from Mark Strand called Eating Poetry. The first line is "Ink Runs From the Corners of my Mouth." If you think that sounds familiar it's because it's the name of my poetry blog.
Crime and Punishment by Fyodor Dostoevsky: I've read a lot by Dostoevsky, and he's someone I'd consider the greatest writer of all time. However, I've never read this one. You know, the one that everyone reads in school. We were apparently hipster homeschoolers.
The Meaning of the Millenium: Four Views edited by Robert G. Clouse: This book was lent to me by a man in my church a month and a half ago, so I really need to finish it and give it back. It's set up like a debate between a Dispensational Premillenialist, an Historic Premillenialist, A Postmillenialist, and an Amillenialist. If you think I plan on defining those, I'll have you know it was a workout just to type the names, so I don't plan on doing that. Wikipedia exists for a reason. Anyway, the interchange has so far been interesting.
So, that's all I'm going to put down though I'll probably read more than that. I'm trying to follow Carrie's realistic goal setting here. Plus, I think
Crime and Punishment
is enough of a handful (brainful?) that I will be quite taken care of for this month.
What's on your Nightstand is hosted by
Five Minutes for Books.