Oh hey! A Nightstand post. Finally!
Sometime before I was aware that I was going to be swept off my feet by a wonderful guy, I made this goal that I would read 200 books. Well, then in came wonderful guy and ruined everything! I'm joking, I'd much rather have my reading goal ruined. I have read 162 books and I guess that is pretty good, but I am very stubborn and weird about my goals and I still haven't quite let go of the fact that I want to read 200 books in 2012. So, I'm as down to the wire as I can get. This is multiplied by the fact that in December, I fly to the wintry wilds of the Northeast to see the amazing handsome wonderful man who dashed my reading goal to pieces in the first place.
So, here is what I think I am going to accomplish in December (haw haw haw). You can sense my desperation in my use of Agatha Christie and Daphne DuMaurier. I never said what
type
of books I was reading.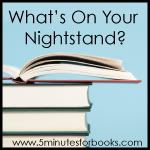 Rain Village by Carolyn Turgeon: I read Godmother from her (liked it…I think…) and Mermaid from her (Ugh…with a capital gross!) and this is her last chance
Ordeal by Innocence by Agatha Christie: Pretty straightforward
The Death of Death in the Death of Christ by John Owen: Hah! Not all fluffies! This has been on my nightstand pretty much all year. One day I promise I'll finish it.
Nine Coaches Waiting by Mary Stewart: So, I don't remember when exactly I discovered Mary Stewart. It was within the years 13 to 17. I think I found a book of hers that looked interesting at a used book store. I absolutely fell in love. Almost all of her stories are centered around a youngish woman in Europe who gets involved in some intrigue and some relationship with a handsome stranger. How is this NOT a fascinating tale? Now, I am also aware she wrote some books about Merlin (the wizard) and stories that may involve sorcery. I never read those, so don't ask me anything about them. I can only answer for the ones I've described above. I do need to reread all of these and then force my sisters to read them so I can get them out of my bookshelves. I may have to move one day (*wink wink* *nudge nudge*) and I am working on whittling down my library to what I will definitely read again.
Homeward Bound: American Families in the Cold War Era by Ellen Tyler May (Not Mary Tyler Moore as I keep thinking): Ok, I'm doing better with the balance of intellectual books and non intellectual than I thought. This is another one of the books Boyfriend read for his exams. Ms. May examines the re-emergence of the "traditional" family (stay at home mother/bread winner father) and the rise of the birth rate and plunge of the divorce rate during the Cold War. The book is unique in that there will be more discussion about the family within the context of the political climate.

The Tenant of Wildfell Hall by Ann Bronte (you may know her as the best Bronte…and if you don't, you should): I just really like this book. Boyfriend and I were going to read it together, and it might still happen, but we decided to focus on something else instead.
Knowing God by J.I. Packer: We decided to focus on this one.
The King's General by Daphne DuMaurier: Because everyone needs a little DuMaurier around Christmas.
What's on Your Nightstand is hosted monthly at 5Minutes for Books.