Yes, I'm late on this. It's a miracle I got to it at all. If you are remotely interested in what's on my nightstand (really this is a misnomer, I ought to call it, what is in a gigantic stack at the side of my bed looking at me in the morning and mocking me as I fall asleep at night) you may thank
Shostagirl
for giving me the inspiration to write this up anyway.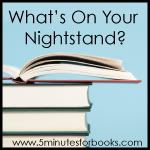 What's on Your Nightstand is a meme brought to you by
5 Minutes for Books
and the letter M. I don't even plan on reviewing the last Nightstand post because I don't remember it, and I wouldn't expect you to either. So, starting fresh:
Bleak House by Charles Dickens: Yeah, I'm going to admit it. If you keep up with Carrie's blog at all, you know there are some slackers in the club. I'm one of them. Does it make a difference that this is the second time I've read it. And I LOVE it! And it probably won't be the last? Maybe?
Born for Liberty: A History of Women in America by Sarah M. Evans: One of those books I'm reading to keep up with my brilliant boyfriend. It's in progress now.
The Shadow Rising (#4 Wheel of Time) by Robert Jordan: Yup...still doing that.
Heaven Below: Early Pentecostals and American Culture by Grant Wacker: And yet another history book.
Religion in America Since 1945: A History by Patrick N. Allitt: Anyone want to take a guess at what this one is about. I'm thinking perhaps it has something to do with hmm, religion perhaps? I'm getting the vibes of a historical survey since maybe the mid 1940s. I do sometimes have to laugh a little at the inventiveness of these titles.
From George Wallace to Newt Gingrich: Race in the Conservative Counterrevolution, 1963-1994 by Dan T. Carter
The Surrendered Wife and The Surrendered Single by Laura Doyle: Recommendation from a friend. I got both because I'm neither a wife...nor single. So, why not?
Despite my making fun of all my history titles, I've been dreadfully excited to be reading them. Not just because they are of significant interest to my significant other, but because I haven't been reading a lot of history this year and I've really missed it. Getting it back into my life has been wonderful. So, even if you are raising your eyebrow over my list and thinking, "Well, Heather,
Bleak House
might be good if he wasn't so verbose, and the one fantasy book might be neat, but other than that....sounds kind of boring." You can content yourself with the knowledge that this month I shall be very happy with my book list.