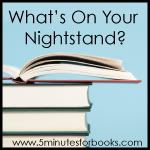 I am pleased to report that most of the titles I posted in my very first "What's on Your Nightstand" post have been completed. The two non completed ones are C.S. Lewis's A Problem of Pain and Albert Camus's The Stranger. But I have stupendously good excuses for both. I'm reading The Stranger along with the folks at The Gospel Coalition and they aren't done. I'm reading the Lewis book with my friend Libby to discuss on our new blog. These things take time, and I probably shouldn't have put them on my "Nightstand" list. So, keep in mind that I'm still reading both of those titles even though they won't be added to this list.
Without any more explanation here are my next adventures into the literary realm:
Room by Emma Donahue: I know nothing about this title. It's a book I'm reading for the Silver Falls Book Club, and that's all I know. If it helps explain the book at all, I secretly call the lady who picked it "Our Sincere Liberal." I mean that in a kind way. I like her a lot.
Juliet in August by Dianne Warren: I won this book from Goodreads, and I hope to finish it soon and get a review out. In the cover letter from the publishers there was a blurb by Ivan Doig praising Ms. Warren's book. So, that seemed positive. The book has been released before under the name Cool Water. I'm a lot more drawn to Juliet in August aren't you? It's set in the small desert town of Juliet, Saskatchewan. Yes, in Canada. Did you know there were deserts in Canada? I did not. This was entirely new to me. Anyway, the story sort of revolves around this town and the people in it. It's one of those "everyone has a story" books, which I find really interesting.
The Dragon Reborn (#3 Wheel of Time) by Robert Jordan: Pretty self explanatory. The third book in that fantasy series I talked about last time. At this rate, by the end of the year I'll be finished with them. Did you know they might be making a movie out of this series? It's a good thing I'm finishing them now before the rush to put them on hold at the library happens.
Home by Marilynne Robinson: What can I say about Ms. Robinson. She has restored my faith in Christian fiction. She weaves a beautiful story and revels in the loveliness of our language. Yet at the same time she holds firmly to truth and right and even mixes doctrine in. She's living proof that you can write truth and still have it be compelling and beautiful (Yes, William Young, I'm looking at you!)
Godmother: The Secret Cinderella Story by Carolyn Turgeon. I don't know anything about this book, but Carrie reviewed it (I'm not linking because I don't want to accidentally spoil a plot for myself) and Libby read it. Libby has been needing someone else to read it so she can discuss it with someone. So I'm obliging her.
The Wind in the Willows by Kenneth Grahame: Because C.S. Lewis quoted it in The Problem of Pain and because I just felt like it, and because books as good as that ought to be re-read.
Seabiscuit: An American Legend by Laura Hillenbrand: I had no intention of reading this book until I read Unbroken by the same author and since it was one of my top ten favorite books of all time, I decided to check into this one too.
The Chronicles of Narnia by C.S. Lewis: Carrie's doing it. I use this excuse an awful lot it seems. hehehe...
And so, there you go! I can't wait to click around online and see what everyone else is reading in the upcoming month.What's on Your Nightstand is hosted monthly at 5 Minutes for Books.