Because I like to do
everything
and because
Carrie is my blogging hero
. I decided to participate in the What's on Your Nightstand meme hosted at
5minutesforbooks.
I'd like to
try
(note choice of word) to post every 4th Tuesday like the cool people who participate do, but we'll see how this goes. The following list is what I plan on starting/finishing in the month of June.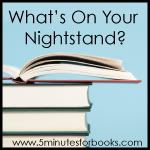 A Woman's Wisdom: How the Book of Proverbs Speaks to Everything by Lydia Brownbeck: Carrie asked me to participate in an online discussion of this book and it gets top priority. Plus, it seems like it's going to be awesome!
The Great Hunt (#2 Wheel of Time) by Robert Jordan: I will have already completed the first book in this series The Eye of the World by the time June rolls around. The series was suggested to me by a friend from one of my book clubs. I don't read a lot of fantasy so this is stretching my comfort zone, but so far I really have enjoyed the series. Am I allowed to say that after only one book?
My Invented Country: A Memoir by Isabel Allende: I have to read this one for the Silver Falls Library book club. I have heard a lot about Isabel Allende, negative and positive. So, I'm interested in reading this book. I've heard a lot of her fiction tends to get a little raunchy, so I'm glad this one is a non fiction piece.
Death at Wentwater Court (#1 Daisy Dalryimple) by Carola Dunn: And this is for my other book club. The discussion will be led by my friend Joy. If you'd like a sample of her writing you can find a review she did for Carrie here.
Empire of Summer Moon: Quanah Parker and the Rise and Fall of the Comanches, the Most Powerful Indian Tribe in American History by S.C. Gwynn: I've been at this book for far too long. It's actually fascinating but library books keep getting in the way of me finishing it. Joy gave me this title for Christmas.
The Stranger by Albert Camus: The Gospel Coalition and Leland Ryken are leading a book club of sorts, and this is the first book under discussion. I believe they are already on part four or five, so I need to get going on this one.
The Problem of Pain by C.S. Lewis: Well, I had this grand idea that I would read through everything C.S. Lewis wrote ever. I won't say I've given that up….yet. But if I do this, I need to pick it up. I haven't read a Lewis title since The Great Divorce.
Well, there you have it. My official reads for June. Knowing the rate I read, I'm sure there are going to be some others, but those are the ones I want/need to finish in that month.